Our team in the final of the Bank of Canada Governor's Challenge.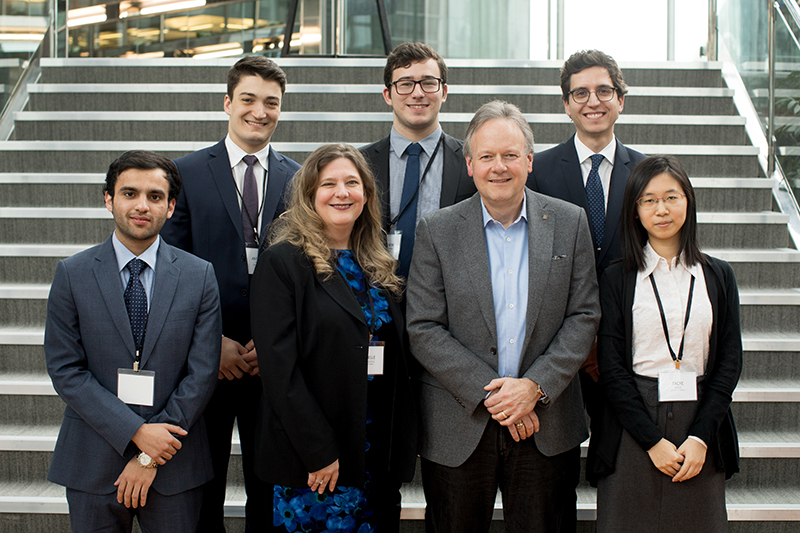 February 2018
Our talented team, of some 25 teams who entered from universities across the country, placed as first runner-up in the final of the third annual Bank of Canada Governor's Challenge. These outstanding students secured the equivalent of the silver medal in their field and we couldn't be more proud of the hard work and dedication they put in to this demanding and highly competitive endeavour. Their place on the podium is richly deserved.
How did these economics athletes prepare for the competition?
The first hurdle was being top of the class in ECO466H Empirical Macroeconomics and Policy, an intensive course whose classes run twice-weekly through the first half of the fall semester only. The Bank of Canada (BOC) competition is central to the course: by enrolling, students agree to take part in it should they be selected (and commit to a considerable time investment).
The next obstacle: from a field of 25, secure in a place in the final five teams by giving an outstanding presentation via Skype to BOC.
The final leg: prepare the presentation, to be made in Ottawa before a panel comprising Northwestern economics professor Martin Eichenbaum, BOC's Deputy Governor, and the Deputy Managing Director of its Canadian Economic Analysis unit. (And then find out on the day that the Governor has decided to sit in as an observer. No extra pressure, then.)
Behind the scenes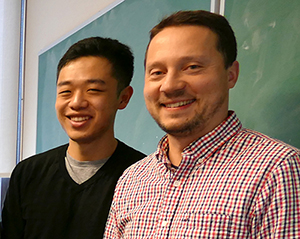 The team met weekly with faculty course instructors and coaches Professors Michelle Alexopoulos and Martin Burda, and TA Paul Han. They were also able to give several practice presentations before such luminaries as Rotman's Dean, Tiff Macklem (and former Senior Deputy Governor of the Bank of Canada) and adjunct associate professor Peter Dungan, economic forecaster and director of Rotman's Policy and Economic Analysis Program. (Mentoring involvement from Rotman has been a feature in all years of the competition, with assistance also coming from Professor Alexandra MacKay (Academic Director, Master of Financial Risk Management) and Steve Murphy (Rotman Institute for International Business).)
Having learned of the team's participation one of our alumni, now with TD Bank, volunteered his time to come in and advise the students. The wide network of support extended to the day of the final, with two of last year's team members attending to root for U of T. The edge in the job market that comes with having been in the final of the Governor's Challenge is amply demonstrated by the fact that both these alumnae subsequently secured positions as BOC research assistants.
Lessons learned
The team members were unanimous in saying that they found the whole process personally rewarding – the teamwork and trust that developed from working closely with one other and with faculty, as well as navigating the nerves attendant on delivering a presentation before a distinguished panel and fielding questions. If such an opportunity were to come their way again, they all said that they would do it again without hesitation.
Professor Michelle Alexopoulos noted that ECO466 breaks new ground in the way it simulates the application of economics. "You're having students being put in the position of a professional economist. You pose a problem and they have to give an opinion very quickly, synthesizing all the models they've come into contact with and all the data that they know. Putting theoretical knowledge into practice is not an easy step for many people." Fellow instructor Professor Martin Burda concurred: from a teaching point of view the intensive nature of the course brings its own challenges: "Beyond a basic framework, we don't have a fixed syllabus. There is no standard way of doing this – we have to figure out how to approach it in order to reach the target."
Onwards and upwards
Both professors agreed that the course and the BOC competition are active learning experiences for them, too, as they refine and adjust their approach. "We're all learning," Alexopoulos said. "Wilfred Laurier's team has been in the final for three years, just as we have. You can see that we're both evolving." These two faculty members clearly relish the challenge that lies ahead – and with their knowledge and support, we look forward to our next team of students stepping into the limelight.