Life After U of T and Backpack to Briefcase: our alumni return to share their experiences.
Life After U of T
February 2018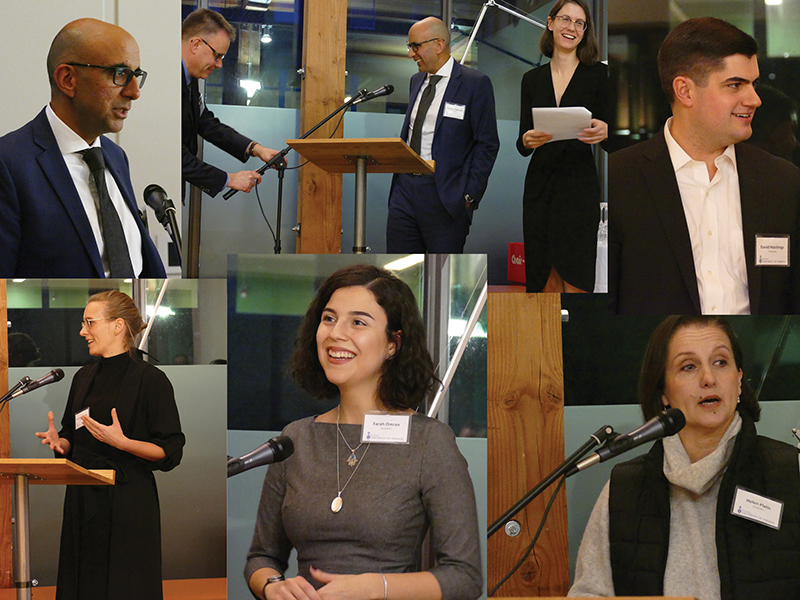 This annual event is organized in partnership with the Graduate Economics Union at U of T and in 2018 took place on January 25 at Max Gluskin House. Providing the opportunity for current MA students to focus on career exploration and the job search process, Life After U of T invites alumni presenters who talk candidly and informatively about their post-MA experiences. Professor Dwayne Benjamin, former department chair and now Vice-Dean, Graduate Education in the Faculty of Arts & Science, welcomed the alumni volunteers so generous with their time:
David Hutchings (Class of 2014 | JD Student): Senior Associate, The Brattle Group
Jessie Lamontagne (Class of 2010 | PhD student): Model Development | Retail Modelling & Analytics | Global Risk Management, Scotiabank
Farah Omran (Class of 2017): Researcher, CD Howe Institute
Payam Pakravan (Class of 2001): Vice-President, Strategy and Analytics, Ontario Telemedicine Network
Helen Platis (Class of 1990 | MBA 2000): President, Lacuna Canada
Boriana Miloucheva (Class of 2014 | PhD Student): Panel moderator
A good number of MA alumni attended, reconnecting with fellow alumni from their class year and making new connections with other alumni and current students. Graduate administrator and MA placement officer Shannon Elliott spoke warmly of the level of engagement in evidence: "We're so grateful to our speakers for their participation and ongoing involvement with the department," she said. "It is a testament to the strong bonds forged during their time here as students that so many alumni return to share their experiences and advice with students taking their first career steps."
In a lively evening of discussion and networking, students were able to consider the challenges of navigating the transition to professional life by hearing first-hand experiences from previous students – and have the opportunity to ask questions of them directly. At the end of the event, many students and alumni adjourned to a local pub to carry on conversations that in many cases were only just getting started. While at this time of year Shannon Elliott emphasizes to current students that "now is the time to get serious about placement", it's clear that an integral part of the process is getting convivial about it as well.
Interested in sharing your post-MA experiences with current students? We'd love to hear from you.
→ See more photos in the album Life After U of T 2018
---
Backpack to Briefcase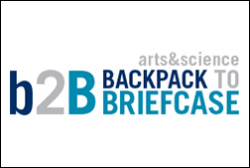 March 2018
The Backpack to Briefcase program provides opportunities for students to meet, mingle and network with alumni and faculty members from their department or academic unit who are willing to offer guidance, career advice and encouragement. b2B networking events, panel discussions and mentorship meals give students the chance to learn from alumni volunteers and to discuss any questions or concerns they may have about life after graduation with people who have been in their shoes and succeeded.
Our event took place in March 2018, with a panel of economics alumni discussing their U of T education, the value of their degrees, and their pursuit of successful careers.
Our guest panelists:
Lisa Mladenovic (BCom 1991, Economics Major): VP & Chief Accounting Officer, Manulife
Sabeen Saeed (BA 2007, Economics Specialist): Product Manager, MD Financial Management
Howe Gu (BSc 2005, Economics Major): Digital Enablement & Transformation Leader, PWC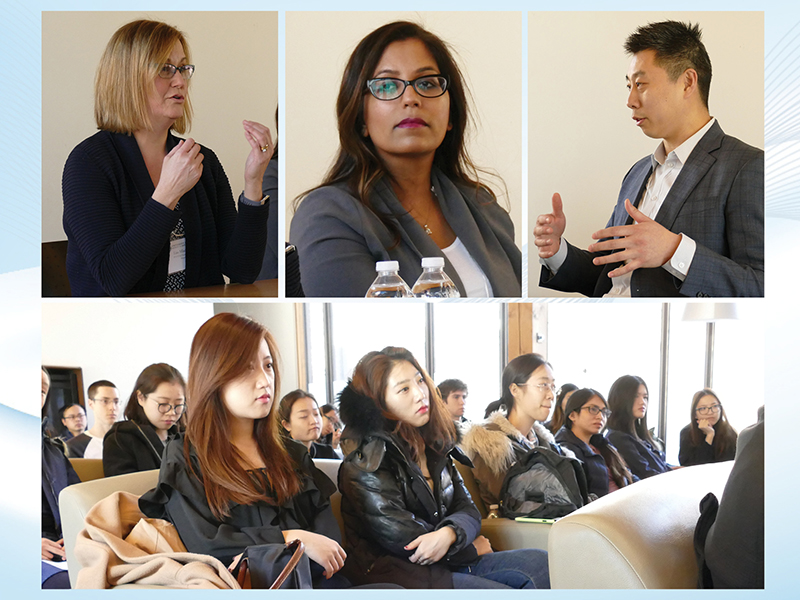 The panelists were candid about their experiences and generous with their advice – a reassuring mixture for those who had come with understandable apprehension about forging careers after graduation. There were also plenty of questions from students for these approachable panelists, and the opportunity to network at the informal lunch.
Are you a U of T graduate interested in sharing your knowledge with those who are following in your footsteps? Find out how.
---