"Are MA students with the Department of Economics funded?
"What means more to the selection committee, academic or professional references?"
"What if I get an offer from another school before I hear from the University of Toronto? "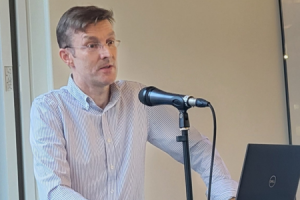 These were just some of the questions potential Master of Economics students asked at the program open house on November 17th. Professors Robert McMillan and Martin Burda presented an overview of the program's research emphasis and the expectations of student applicants. In addition to references, and strong performance in undergrad work, the committee is also looking for a strong grasp of mathematics, programming knowledge, or statistics. Prior experience with other social sciences can also be useful.
Current first year MA students Sina and Allison told attendees about their experiences in the forum thus far. A lively question-filled discussion followed with many of the 70 or attendees participating.
Sina and Allison spoke at the Open House to help future students make fully informed decisions that consider the whole experience of the MA program.
Sina emphasized the social differences between being an undergraduate at UofT and being a graduate student.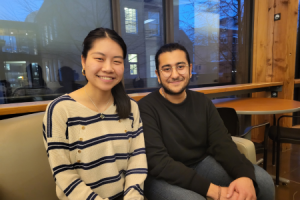 "I really didn't know anyone when I was an undergrad here," Sina said. "Now I know everyone in the program, and we work together all the time. It's very hard work, but it's also a lot more fun."
MA students also benefit from the maturity and life experience they've gained since their undergraduate years.
"I actually took a gap year and taught English before starting the program," Sina said. "It gave me a chance to make sure this is what I wanted to do and the directions I want to take while I'm here."
Allison, who came to the MA program after completing her undergrad degree at McGill, talked about the program's research emphasis when choosing a university for graduate school.
"Economics research is my passion," she said. "I really wanted to dive in and start looking at ways to answer important questions I have about economics and society."
Economics undergraduates considering an MA program came to the open house for many different reasons.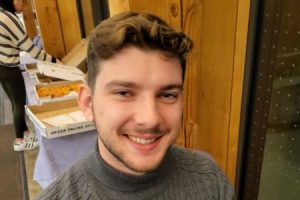 Fourth year student Oliver is comparing what UofT has to offer with direct-to-PhD programs at other schools.
"It's possible to just read the website and get an idea of what the program is about," he said. "But it was interesting to hear the questions other people had too that I hadn't thought about. Listen to how the professors answered the questions was also useful in adding to what I had read. I feel more prepared to make a decision about where I want to go and what I want to do while I am there. Now I know I can email faculty and ask for their perspective."
Third-year students Kay and Lyn have just started looking into graduate school as a possibility for themselves.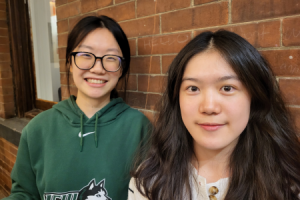 "I wanted to see what do a master's degree is all about," Kay said. "It's different than what I was expecting, and I need to think about applying."
"It was good to hear what the students in the program now had to say," Lyn said. "It helps to make a decision, for sure."
Anthony, another third-year student agreed.
"I'm not sure what I want to do after I finish my undergrad, but now I know doing a master's degree here is a possibility and what it would mean for me. If I am going to apply, I had better start planning now."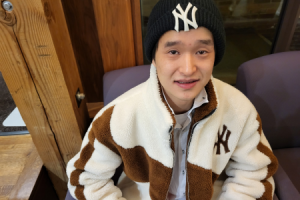 Missed the open house? General information about the program is always available on the Department of Economics website.  Email program staff if you have specific questions that aren't covered on the website. The application period for the MA in Economics program opened in September and are due no later than January 19th, 2024.
Return to the Department of Economics website. 
Scroll more news.