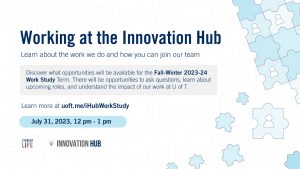 The Innovation Hub invites students to join them for Working at the Innovation Hub from noon to 1PM on July 31, 2023.
The information session is a 1-hour virtual event where you can learn about the job opportunities on their team in 2023-24.
The Hub encourages all current and in-coming students to attend . To learn more, visit uoft.me/iHubWorkStudy to register for the event.
For the 2023-24 school year, the Innovation Hub is hiring for roles in design thinking research, digital storytelling, writing, data analysis, and more. Check out our job descriptions to learn more.
Working at the Innovation Hub is a fun way to build highly relevant and transferrable work experience. The student staff build leadership, collaboration, and communication skills while learning design thinking. The Innovation Hub's work centres students in the research to co-create a campus experience designed for every student to flourish academically, socially, and personally.
The Innovation Hub is committed to equity, diversity, inclusion and reconciliation in all that they do. Their aim is to foster welcoming and accessible environments for all students.  Visit About the Innovation Hub to learn more about their commitments.
Questions? Need accessibility accommodations?  Contact innovationhub@utoronto.ca.