Professor emeritus Wahidul ('Wahid') Haque passed away in Toronto on July 2, 2020, at the age of 86
July 2020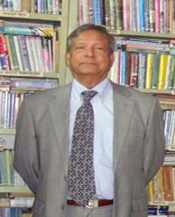 Wahid took his master's degree from Dhaka University and attended Stanford under the Fulbright Program, with his PhD being awarded in 1964. Following appointments at the University of California, Berkeley and the University of Alberta, and a research stint at the University of Cambridge, he joined the University of Toronto in 1967. He was a member of both the Department of Economics and the Department of Mathematics, teaching and undertaking research in both subjects. He also held an appointment at the University of Islamabad. In his academic career, Wahid contributed some two dozen articles bridging the fields, and at the time of his retirement in 2000 was working on value and capital theory, and on the microfoundations of macroeconomics.
He served as an advisor to the International Monetary Fund and the United Nations, and was Bangladesh's Finance Minister from September 1988 to May 1990; current Foreign Minister Dr. Abdul Momen expressed the government's sorrow at his passing and gratitude for his service. Wahid was very much involved with the Bangladesh Liberation War and was an advisor to Sheikh Mujibur Rahman, Bangladesh's first president. He also advised BRAC.
Wahid maintained strong ties with Bangladesh throughout his life. He founded, for example, the International Centre for Economic Policy Research, a non-profit, non-partisan research organization focused on the better understanding of the Bangladesh economy and its key policy challenges, both domestically and in the context of a rapidly changing global marketplace.
He is survived by his wife, Maliha, and children, Tatjana Haque, Sikander Michael Haque, Farhan Anwar, Farzan Anwar, and Mimosa Haque. The University of Toronto and all former colleagues and members of the Departments of Economics and Mathematics offer their condolences to Wahid's family.
A memorial event will be held at a later time.