Professor emeritus David Foot gets a shout-out 25 years on from a former student who's now a Hong Kong-based banking expert
July 2020
Arts & Science News profiled alumnus and banking expert Rajeev Chib, who began his career after graduating with a bachelor of science degree in quantitative economics in 1994.
Based in Hong Kong, Chib is the director and regional head of client facilitation and business unit management for investor sales and relationship management for the Asia Pacific region at Citigroups Asia Markets. Chib reflected in the course of the article on how as a student he was impressed with the quality of his professors.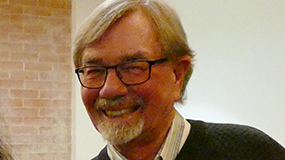 "It was Professor Emeritus David Foot — the well-known economist and author of the bestselling book, Boom Bust & Echo — who made a significant impression with his Economics & Demographics course. Chib even remembers his final grade, an A minus.
""His ability to engage students through storytelling is what I remember most," says Chib, noting it was Foot who first sparked his interest in demographics. "His book is on my bookshelf and I pick it up frequently."
"Though it's been over 25 years, Foot and Chib remain in contact. "Rajeev was a very good student and wrote an excellent research paper in my course," says Foot. "I'm pleased but not surprised by his post-graduation successes."
"Chib credits professors like Foot for giving him the skills, confidence and backbone to pursue a career overseas."