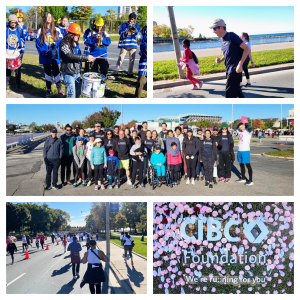 It's time for Econ to team up to beat breast cancer. The Department of Economics is now recruiting faculty, staff, and PhD students to join our team for the Run for the Cure on Sunday, October 1. Be sure to click on the Join this Team link to ensure you are running with the department.
Breast cancer is a stressful reality for many families. According to the Canadian Cancer Society, 1 in 8 women in Canada will be diagnosed with breast cancer at some point in their lives. Every year, 220 men in Canada are diagnosed with breast cancer too. There's no question that breast cancer is a beast. Increasingly though, it is a beast we're taming rather than fearing. The Canadian Cancer Society-CIBC Run for the Cure is one positive action survivors, their allies, and supporters can take. Monies raised by runners are used to fund research, new treatments, and educational outreach.
Nazanin Khazra, Assistant Professor of Economics, personally benefited from breast cancer research and outreach efforts.
"I was about to start my first year of my Ph.D. program when I received a breast cancer awareness email with instructions about how to do a self-checkup," she remembered. "I followed the instructions and discovered a breast tumor. An email saved my life. This experience reinforced my belief in the power of awareness and early detection in saving lives."
Last year, Khazra organized the Department of Economics run team for the first time and she's making it a tradition with the help of the undergraduate program's Johnny Tong and Jacklyn Rabinovich and the endorsement of Chair Ettore Damiano.
"This year, I'm thrilled to see our department come together once again to organize this event," Khazra said. "It's not just about my personal journey; it's about the incredible culture of support we share in our department."
Last year, 39 members of the department participated in the run and more made donations in support of the team raising more than $5000. This year, the organizing team's goal to raise $5000 in donations and to convince half the department to take part.
To make things interesting, because Run for the Cure is a national event, the Department of Economics is issuing friendly challenges to other economics departments at Canadian universities from coast-to-coast via Twitter. Feel free to join in, call on your colleagues from Newfoundland to BC to participate and make #EconTwitter a pink and positive place with the hashtag #EconForTheCure.
Registration and race packet pick up start at 8:30 the morning of the race at Nathan Phillip Square on Queen Street West. Team photos will be taken at 10:30. After the run, optional activities for participants continue until 12:30.
Return to the Department of Economics site. 
More news articles.