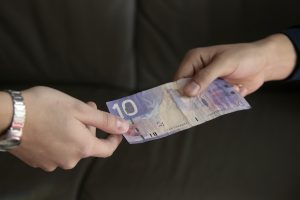 Average student? Earning minimum wage? Struggling to go to university and work?
Here is a fact that might surprise you: You don't always have to be an academic superstar to win a scholarship or bursary. The only thing you must ALWAYS do is fill out the application and submit it before the deadline.
Don't miss out on the opportunity to apply. To make the process easier, you can apply for multiple awards using the same form.
The first and best resource for finding out about UofT specific funding that requires an application is Award Explorer. Applications for many funds for 2nd, 3rd, and 4th year students opened on September 5th, and others open in January. Deadlines tend to fall around February 1st and April 15th or 30th.
There is no reason not to apply early. Applying early for funds that require an essay response of 500 to 1000 words, or a portfolio, or letter of intent,  makes sense, especially when deadlines coincide with or closely follow exam seasons.
There are also exceptions. Below are four funding sources that are open to students studying economics with deadlines between October 31st and November 6th.
Fund: CIBC
Deadline: October 31st.
Eligibility: All students admitted to or enrolled in a post-secondary program.
Amount: $1000
How to apply: This is not a Uof T scholarship. CIBC has created its own scholarship portal called the Student Life Network and funds nine scholarships of $1000 each. Submission requirements include pitches, short essays and other creative assignments. Three of them are related to investments, money management, and financial planning. To apply, register with the portal and view the requirements.
Fund: Lee and Elsie Wilson Memorial Bursaries
Deadline: November 1st
Eligibility: University College students in economics or political science.
Amount: Variable
How to apply: Follow the link provided on this site to the application on Acorn.
Fund: Daniel W. Lang Childcare Bursary Fund
Deadline: November 1st
Eligibility: Full time students who are parents
Amount: Variable depending on individual need
How to apply: Obtain two letters of reference to support your application. One of them MUST be from a member of faculty. Complete the U of T Student Award Application Form. The link to the Fall applications will be available this month. Ask your college registrar for updates.
Fund: TD Scholarships for Indigenous Peoples
Deadline: November 6th
Eligibility: Indigenous students in any discipline enrolled in, or accepted to, a full-time program with a post-secondary institution for the next year of study
Amount: $15 000
How to apply: This is not a UofT scholarship. More information at this link.
Back to the Department of Economics website.
Read more news.