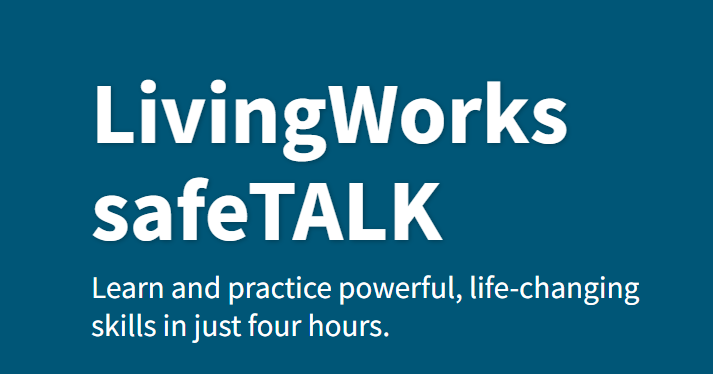 SafeTALK
Everyone can learn suicide prevention skills.  SafeTALK by LivingWorks is a three and a half hours-long suicide prevention training session and it's available to the entire UofT community through New College.
These sessions are open for registration:
Thursday, January 18 – 4PM-7:30PM
Thursday, February 22 – 1PM-4:30PM
Tuesday, March 12 – 4PM-7:30PM
The training is free as long as you show up for the session you registered for. No shows are charged $30 if they don't cancel before the session begins. Payment information must be included with the registration, which includes light lunch or dinner.
"With the increasing emphasis on mental health awareness, Safe Talk provides the tools to recognize, and confidently approach the difficult subject of suicide," said Yana Ermolenko, Graduate Assistant in the Department of Economics, who took the training in September. "This ability to foster an open and honest conversation with individuals in distress is crucial, and allows us to then connect them to resources and support, both on and off campus."

Applied Suicide Intervention Skills Training (ASIST)
After SafeTALK, there is a second level of training called LivingWorks ASIST (Applied Suicide Intervention Skills Training).
This training is available to community members at a reduced rate of $110 per student, and $130 per staff member. Payment information must be provided upon registration. Registration that does not provide payment information will not be processed. A light breakfast is provided with the training, but participants should bring lunch.
The training is available on the following dates:
New College training sessions are only open to members of the U of T community.
Return to the Department of Economics website. 
Read more news.