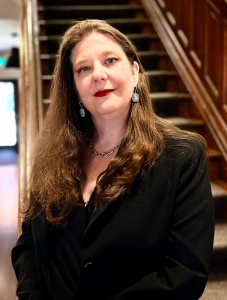 Professor Michelle Alexopoulos has started her term as President of the Canadian Economics Association. While in the position, Alexopoulos has brought more focus to the CEA's mentoring events and networking activities through her work with the Canadian Women Economists Committee (CWEC) and the Canadian Economics Diversity Committee (CEDC), and by initiating the CEA's new Embrace Day initiatives.
"Michelle Alexopoulos is an accomplished scholar with a deep and creative knowledge of state-of-the-art research methodologies. Her approaches are revealing new ways of looking at data and informing monetary policy," said Professor Ettore Damiano, Chair of the Department of Economics. "Members of our department are grateful for her ongoing service to the discipline and to Canada."
Broadly concerned with macroeconomics, media economics and applied econometrics, Alexopoulos' research has included examining the effects of technological evolution and disruption on the economy and labour markets and, among other methodologies, includes the innovative use of library classification systems for data mining and text analysis. Her most recent publication in the Journal of Monetary Economics, "More than words: Fed Chairs' communication during congressional testimonies," used machine learning to examine the how Federal Chairs' emotions expressed through non-verbal communication influenced financial markets during testimonies on monetary policy. Increases in the Chair's text, voice, or facial emotion indices during testimony were found to generally raise the S&P500 index and lower the VIX.
Non-partisan in nature, the membership of the CEA is composed of academic economists in Canada and focused on the advancement of economic knowledge through the encouragement of study and research. New executives are elected each year and cycle through the positions of deputy vice-president, vice president, president, and past president throughout their four-year term.
Thus far, Alexopoulos's presidential term is notable for its increase in mentoring activities and outreach events promoting diversity in the profession.
"Economics is a diverse field in terms of methodologies, theories, and approaches and CEA members are a diverse group of thinkers. Their research contributes to a greater understanding of our society and promotes increases in individuals' standards of living in numerous ways," Alexopoulos said. "I'm honoured that my peers have given me this opportunity to support their contributions and contribute to positive changes in our profession."
Alexopoulos is also a Bank of Canada Fellow and sits on the CD Howe Institute's Business Cycle Council. She is cross appointed to the Department of Information, and is Faculty Affiliate of the Data Science Institute, the Schwartz Reisman Institute for Technology and Society and the School of Cities.
Return to the Department of Economics website. 
Scroll more news.