The Checklist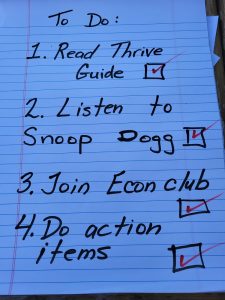 Finished the Thrive Guide? Here are your action items expressed as a checklist:
Read the syllabus
Acquired required texts and tools
Completed the entry tasks outlined in the syllabus to secure your first 1%
Accessed the tools used in the course for online discussion
Planned out your assignments and due dates on a calendar
Made contact with at least one resource to support development of your study skills
Made a plan to contact at least one academic support resource
Put an office hours visit to your professor in your calendar
Put an office hours visit to your TA in your calendar
Registered with accessibility services
Check out The Thrive Guide A to Z of Wellness & Self-Care. 
This is a realistic video by a helpful and generous person. Don't do what he did. If you don't have 8 minutes to watch, the title really says everything you need to know about cramming for an economics exam.