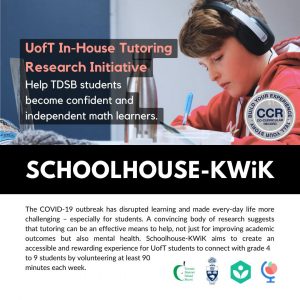 Calling all UofT students!
Make a meaningful impact and connect with Grade 5-9 students from the Toronto District School Board through Schoolhouse-KWiK!
Join our faculty-led initiative and become a tutor, empowering struggling students to overcome challenges in their academics and mental well-being.
As a Schoolhouse-KWiK tutor, you'll receive incredible benefits too! Earn valuable CCR credit from UofT and get a certification from Khan Academy's Schoolhouse World. 🏆 These recognitions will be a testament to your dedication and commitment to making a difference.
Your commitment is simple: volunteer a minimum of 90 minutes each week and attend a mandatory 2-hour asynchronous training to ensure you're well-prepared for the journey ahead.
Don't miss out on this rewarding experience! Sign up for Schoolhouse-KWiK today and empower the future generation of leaders. Sign up here.