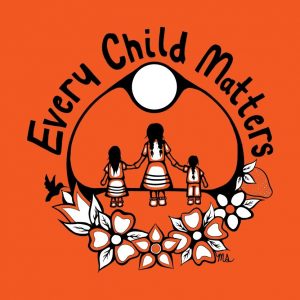 The Department of Economics, like the rest of the University of Toronto, observes Orange Shirt Day. The history of the observance is relatively new and often misunderstood. Officially, September 30th is Orange Shirt Day, the National Day for Truth and Reconciliation. Observed by the University community on 29 September for 2023, special events, raising the Survivors' Flag, and a Hart House panel discussion about on-going reconciliation efforts on campus, are some of the ways we acknowledge the legacy of residential schools, honour survivors, and remember the children who died.
The origins of the day's slogan, Every Child Matters, and the tradition of wearing an orange shirt on September 30th started in 2013 and became more formal in 2015.  The event that inspired the practice occurred many years earlier.  When Phyllis Webstad, a member of the Stswecem'c Xgat'tem First Nation, was just six year's old, her grandmother bought her a new outfit that included a bright orange t-shirt Phyllis chose herself.  The new outfit was for Phyllis' enrollment at the St. Joseph Mission (SJM) Residential School she — like generations of Indigenous children before and after her — was forced to attend. Upon arrival, school officials stripped the children of their own clothes. Phyllis never saw her orange t-shirt again.
Webstad's experience is symbolic of the cruelties children experienced at the hands of church-run residential schools in Canada. These experiences occurred for almost a century across the country, but they are not historical events. Webstad is only 56 years-old and the last residential schools closed in the 1980s, however, many students from First Nations still attend boarding schools (or board in host towns and cities) because they cannot access high school in their home communities. The intention of residential schools was to completely assimilate Indigenous peoples into white Canadian society. The phrase "killing the Indian in the child" is associated with the policies and laws of the movement.
Orange Shirt Day is one way of acknowledging the terrible harm the government and missionaries did with residential schools, but it is more than a day of mourning. It also presents an opportunity to commit to, or to renew a commitment to moving forward in a good way. At the University, the plan for the way forward is named with a Cree word that means "working together."
Wecheehetowin is U of T's response to the Truth and Reconciliation Commission of Canada, and it is embedded in the mission, vision and values.
Each year, the University of Toronto sponsors a contest for the design of a new t-shirt. This year's design for the Every Child Matters t-shirt is by UTM student and artist MJ Singleton.
Throughout the day, there are many opportunities to consider the role of education and educators in moving forward toward reconciliation in a good way. Below are some quotes from the community, national, and international bodies to guide those considerations.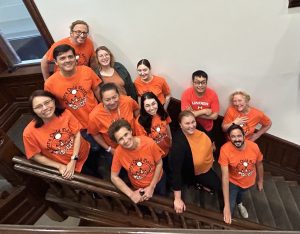 "Equity, diversity, inclusion, access and belonging. These address attitudinal and systemic barriers that draw on anti-oppression, anti-racism (including, but not limited to, anti-Black, anti-Asian and anti-Indigenous racism), inclusive and universal design, intersectionality, and interculturality frameworks to increase equity, inclusion, access, justice, and a sense of belonging, as well as deepen understanding of diversity." — Mission, Vision and Values, University of Toronto.
"Indigenous individuals, particularly children, have the right to all levels and forms of education of the State without discrimination." — Article 14, item 2, United Nations Declaration of the Rights of Indigenous People (UNDRIP).
"People who are adults today did not learn what happened to us while they were in school. For survivors and their families, we didn't even talk about it in our homes. But now there is no longer an excuse for Canadians to not know what happened to us." — Phyllis Webstad, the Orange Shirt Society.
"Indigenous peoples have the right to establish and control their educational systems and institutions providing education in their own languages, in a manner appropriate to their cultural methods of teaching and learning." — Article 14, Item 1, UNDRIP.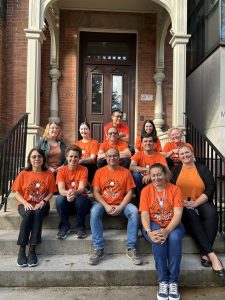 "Today, and every day, watch and listen to the stories of Survivors, their families, and communities. We must all recognize that the Indian Residential School system is not just something from your history books. It's something that Indigenous Peoples are still feeling the effects of each and every day. We are in a constant state of grieving for the families that were broken, for the cultures that were torn apart, and for the children that never made it home. — The Honourable Murray Sinclair, former Senator, Truth and Reconciliation Commissioner.
"States shall in consultation and cooperation with indigenous peoples take specific measures to protect indigenous children from economic exploitation and from performing any work that is likely to be hazardous or to interfere with the child's education, or to be harmful to the child's health or physical, mental, spiritual, moral or social development, taking into account their special vulnerability and the importance of education for their empowerment." Article 17, Item 2, UNDRIP.
"The good news is that you don't have to tear the system down in order to improve it." — Buffy Sainte Marie, singer-songwriter and member of the Piapot Cree Nation.
Return to the Department of Economics website.