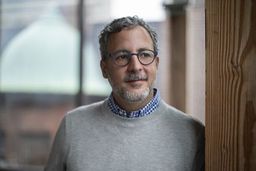 Professor Gustavo J. Bobonis of the Department of Economics is an Evidence Champion. As one of two inaugural J-PAL North America Evidence Champions, Bobonis was recognized for his extraordinary contributions to the field of evidence-based policymaking during the regional organization's tenth anniversary celebrations in Cambridge, MA on September 18th.
One of the most prominent poverty-alleviation research centres in the world, the Abdul Latif Jameel Poverty Action Lab is based at MIT. J-PAL North America conducts randomized evaluations, builds partnerships for evidence-informed policymaking, and helps their partners scale up effective programs.  Evidence Champions are selected based on their commitment to generating rigorous evidence and leveraging research results to inform poverty-alleviation policies and programs.
"Gustavo is a true champion of evidence-based policymaking who has played a significant role in helping to improve socio-economic outcomes in Puerto Rico," said Vincent Quan, co-executive director of J-PAL North America. "He combines a rigorous economics-driven approach with a strong understanding of the opportunities and challenges in the territory. We have worked closely with Gustavo for many years on several randomized evaluations focused on improving educational and workforce outcomes in Puerto Rico. We are blown away by not only the rigor of his research, but also his strong collaboration skills with a diverse range of partners. I commend Gustavo's commitment to building coalitions, crafting policy-relevant research agendas, and cultivating a culture of evidence generation and use among the territory's institutions to achieve better governance and improve lives."
A faculty member of the University of Toronto since 2005, Bobonis' research interests include education, political economy, development economics, and labor economics. He and his colleagues have worked in collaboration with the government of Puerto Rico since 2013. Their shared goal is to build a culture of evidence generation and to use that evidence to achieve better governance and improve lives. In their recognition, J-PAL North America cited Bobonis' work co-creating, implementing, and evaluating programs with the Puerto Rico Department of Education (PRDE). These projects have influenced professional development policies for school principals and informed best practices in the use of computer-assisted learning to teach math in Puerto Rico elementary school classrooms.
"Gustavo understood early on in his collaboration with the PRDE that evidence-based policymaking had to go hand-in-hand with technical assistance to policymakers," said Emily Goldman, one of Bobonis' research partners. "In our context, that piece was particularly important, yet it is relatively unconventional in the realm of research-practice partnerships. His deep understanding of the context, and his commitment to helping construct the enabling conditions for research projects to succeed, have been vital to the survival and flourishing of evidence-based policymaking projects at the PRDE."
In addition to his research and teaching duties, Bobonis also serves as co-director of the Forward Society Lab (FOS), a newly formed global lab based in the Department of Economics that leverages data and state-of-the-art research methods to shine a light on marginalized people and help move society forward.
"As a department, we take great pride in Professor Bobonis' research with the Puerto Rico Department of Education and with other partners around the world," said Ettore Damiano, Chair of the Department of Economics at the University of Toronto. "As an economist, Gustavo has long acknowledged and accepted responsibility for his own part in our discipline's use of rigorous methodologies and sound data collection in poverty alleviation and in addressing the root causes of inequality. He is indeed an Evidence Champion as a professor, as a researcher and now also as co-director of the Forward Society Lab."
Back to the Department of Economics website.