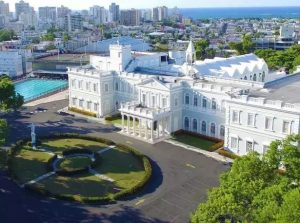 A research practice partnership seeks to hire a Research and Evaluation Officer to serve as liaison between a team of researchers here at the University of Toronto and the Puerto Rico Department of Education (PRDE). The application deadline for this position is next Thursday, July 20, 2023.
The Research and Evaluation Officer will assist in the development and implementation of several ongoing research and evaluation initiatives, while receiving
mentorship, training and support from the Research Team. The Research and Evaluation Officer will be a part-time (80%) position.
Working closely with researchers and policymakers, the Research and Evaluation Officer will be responsible for coordinating and facilitating data sharing and collection, monitoring research, project execution, managing relationships across project partners, and supporting research implementation efforts. As the research team is mostly remote, the Research and Evaluation Officer will be the on-the-ground staff ensuring that the research projects are successfully launched and implemented. The Officer will be the primary liaison between the research team and the data collection and program implementation activities.
The Officer will be an employee of the Universidad del Sagrado Corazón and will be based in San Juan, Puerto Rico. It is expected that the position will spend a considerable amount of time at the PRDE, which will designate office space for this position. The individual will have an opportunity
to work with Gustavo J. Bobonis, Professor of Economics at the University of Toronto, public servants in Puerto Rico, and the evaluation staff at J-PAL North America based at MIT.
CANDIDATE PROFILE
• A bachelor's degree or higher in a relevant field (education policy, public policy,
economics, etc.). A master's degree is preferred.
• An understanding of common quantitative and analytical challenges. Relevant work
experience and demonstrated expertise in program evaluation methodologies are
preferred.
• Demonstrated passion for improving public service performance and solving social
problems.
• Excellent written and verbal communication skills in both Spanish and English, including
policy memos, slide decks, and public speaking.
• Exceptional project management capabilities and creativity in problem solving.
• Demonstrated ability to use project management tools and software (e.g., Dropbox, GSuite)
Other Qualifications:
• Record of accomplishment of adeptly navigating complex organizations and building
relationships among diverse groups of stakeholders.
• Flexibility to successfully adapt and respond to changing circumstances, demands and
expectations from stakeholders.
• Graduate-level training in public policy, economics, or related fields is highly preferred.
• Self-motivated with an orientation towards results over process.
• Willingness to learn, attention to detail, and ability to multi-task are critical.
• Authorization to work in the United States for two years.
• An understanding of data analysis is preferred.
MAIN RESPONSIBILITIES
• Coordinate efforts between the Research Team and PRDE to identify and assess
promising, high-priority issue areas for projects.
• Coordinate project development and implementation planning across government
agencies and community stakeholders.
• Provide ongoing project management support as needed on randomized evaluations run
in partnership with the PRDE.
• Conduct data analyses and review research literature to inform projects.
• Support the design and documentation of a rigorous project evaluation methodology.
• Assist with community outreach and communication efforts to disseminate research
findings and project results.
• Provide technical assistance to the PRDE in the creation of a Policy Research and
Evaluation Unit that will lead the efforts to structure a process to develop actionable
research.
Individuals interested should apply before July 20, 2023 via the Sagrado portal
https://workforcenow.adp.com/mascsr/default/mdf/recruitment/recruitment.html?cid=78334d6d-1342-4b7f-9674-a7916c71caa7&ccId=19000101_000001&lang=en_US&jobId=484603
Create a single PDF with the filename "Firstname_Lastname_PREvaluationOfficer" that includes:
a. One page cover letter addressed to the Project Research Team which explains why you
are interested in and qualified for this position;
b. Curriculum vitae or resume (no more than 2 pages);
c. Transcripts of your undergraduate and graduate courses (unofficial transcripts accepted)
For more information about la Universidad del Sagrado Corazón, please visit www.sagrado.edu.
la Universidad del Sagrado Corazon is an EEO Employer/Affirmative Action for Females/Disabled/Veterans.