Undergraduates presented research they completed this past academic year applying big-data skills to answer important economic questions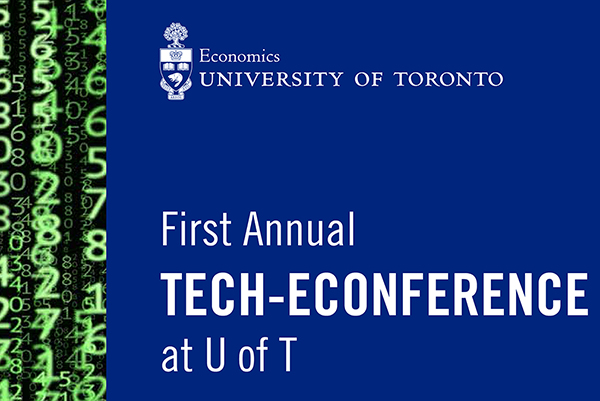 May 2021
Academia and industry increasingly demand big-data skills such as working with satellite data, generating and scraping data, visualizing data, and applying machine learning methods to economic questions. The conference showcased undergraduate research that uses these cutting-edge "tech tools" to answer important economic questions. The nine projects were selected from an impressive range of applicants, with each researcher allocated ten minutes to present their findings.
The Tech-Econference was created by Nazanin Khazra, teaching stream assistant professor and co-instructor for ECO225, Data Tools for Economists, and co-organized with fellow instructor assistant professor Abdollah Farhoodi. "Ideally, an undergraduate's path is marked by the transition from the consumption of knowledge to its production," Khazra says. She also notes that in addition to understanding the domain and mastering knowledge-generating tools, "as important are the confidence and courage a student needs to join the knowledge-creation conversation."
We applaud all the students who applied to present their work at the conference; in 2022 graduate students will be invited to participate, too.
As New Zealand statistician Hadley Wickham observed*, we must give students "the skills to dive into the data ocean. Yes, there are sharks and jellyfish and rip tides, but … [s]tudents will go swimming with or without us, and all we can do is prepare them as best we are able." Thanks to Data Tools for Economists, our students have been able to drop the water wings and strike out independently with justified confidence.
Professors Robert Gazzale and Courtney Ward were on hand to decide the winners of the best paper awards. Professor Ward commented that the selection had proved to be difficult, given the exceptionally high standard of all contributions. "Each question engaged our interest right off the bat," she said. "Across the board, the presentations did a better job of employing techniques to visualize data and to pull out interesting features than standard-issue economics papers."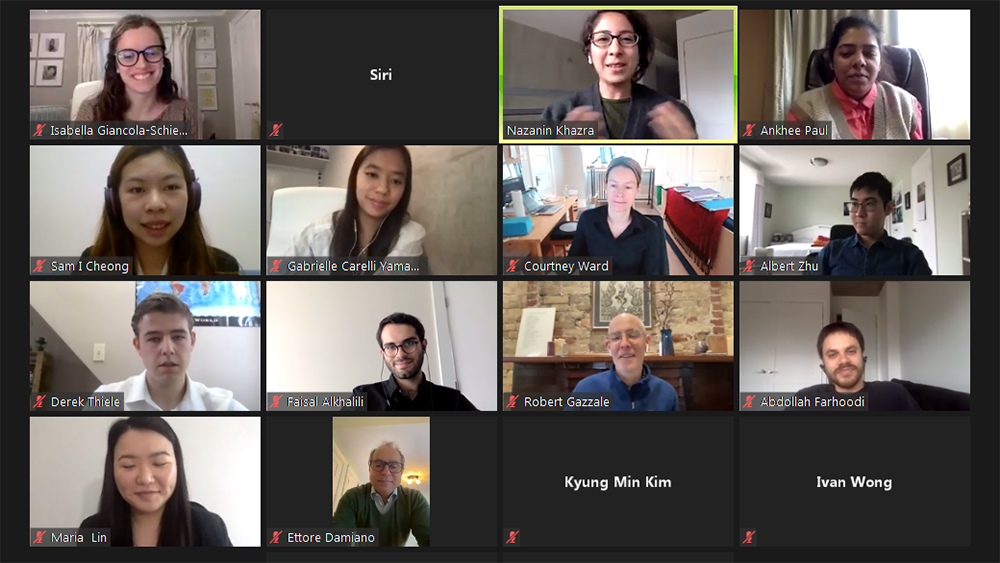 | Participant | Paper Title |
| --- | --- |
| Faisal Alkhalili | What is the Relationship Between CO2 Emissions and Rising Global Land Temperatures? |
| Sam I Cheong | Role of Location, Age, and Population Density in California Housing Prices |
| Isabella Giancola-Schieda | Contagious: Investigating the Role of COVID-19in the 2020 United States Presidential Election |
| Aditi Khetwal | Race, Income, and Standardized Test Scores: Evidence from Schools in New York City |
| Maria Lin | What are the Key Determinants of Short-Term Rental Prices? Evidence from Airbnb |
| Ankhee Paul | What Are the Potential Local Variables that Can Predict Covid-19 Cases? |
| Derek Thiele | A Comprehensive Picture of What Happened in the 2020 U.S. Presidential Election |
| Gabrielle Carelli Yamamoto | Is Mobility Deriving the Total Number of Deaths in the United States? |
| Albert Zhu | Can Local (In-State) Tweets Predict Election Success? |
The winner of the Best Paper Award was Isabella Giancola-Schieda, who received a $100 prize. First-place runner-up was Maria Lin ($50), and second runner-up Derek Thiele ($50).
Following his awarding of the prizes for best papers, department chair Professor Ettore Damiano noted in his closing remarks that the Tech-Econference is an excellent illustration of how timely and valuable the introduction of a data analytics focus has been to our economics major and specialist programs. "I was very impressed, too, with the maturity and professionalism of the presentations," he added. "I knew our undergraduates were great, of course, but this was a wonderful way to be reminded of just how fantastic our students are."
*Online discussion of "Mere Renovation is Too Little Too Late: We Need to Re-think Our Undergraduate Curriculum From the Ground Up," by George Cobb, The American Statistician, 69. Hadley Wickham, RStudio 1719 Drew Houston Texas 77004.