Professor Emeritus James E. Pesando passed away on March 8, 2021
March 8, 2021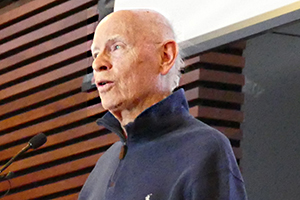 It was with great sadness that we learned that Professor Emeritus James E. Pesando passed away on March 1, 2021. Jim's engaging and energetic teaching style was renowned, and was all the more remarkable for the impact he had on very large classes with hundreds of students. Our condolences go to his wife, Patricia, and to his siblings, John (Patricia), Frank (Stephanie) and Marie (Jason), as well as to all other family and friends. His contributions to the department's education and research activities were substantial, and his warmth and humour will be greatly missed.
The family has announced that a celebration of Jim's life will be held at a later date when it is safe for a gathering to take place. Donations in his memory may be made to the Canadian Cancer Society or to the Mario and Dorothy Pesando Scholarship in Engineering at the University of Toronto. An obituary appeared in the Toronto Star, and condolences may be forwarded through www.humphreymiles.com.
The Department of Economics' Chair, Professor Ettore Damiano, notes Jim's impressive decades of service at the University of Toronto. "His passing is a sad moment for the department and the broader University community. Jim was a pillar of the transformation of our unit from being part of the Department of Political Economy to the current Department of Economics, and of the intellectual growth that followed." Jim was, Damiano, adds, "a champion of the discipline of economics, and his Principles of Economics classes were legendary among thousands of students. We mourn his loss by remembering his lasting contributions."
The effect Jim had on those around him is abundantly clear. Subsequent to this sad news, we have heard not only from Jim's friends and colleagues but from students who benefited from his talent for teaching, or from his advice and encouragement. As graduate administrator Shannon Elliott remarks: "For Jim, everything was about the students." Comments from Professor Gillian Hamilton, former Undergraduate Studies Associate Chair, reflecting on Jim's exceptional skill, expand on that. "Jim was a gifted lecturer," she says. "He was succinct, clear, logical and interesting. He knew exactly what he wanted to say and how he wanted to say it. Perhaps many people do. The difference was that Jim's way was truly outstanding – there was no more effective way to convey the information. Students knew that they were experiencing an unparalleled performance in the classroom – they clapped at the end of his lectures. Not just at the end of the term (something some of us can only imagine), but every week! Jim cared about his students. He wanted them to learn and excel. He was also generous towards his colleagues, offering advice and helping them become more effective educators."
A group of Jim's colleagues has put together the following summary of his contributions – our thanks go to professors emeriti Jack Carr, Peter Dungan, Morley Gunderson, Frank Mathewson and Thomas Wilson, and to Professor Douglas Hyatt. We also hear below from two of his former students, Pauline Shum Nolan and Lisa Stockley, who speak of his lasting impact on their lives and careers – their tributes to Jim epitomize the appreciation that we have heard repeatedly from those responding to his passing.
Jim Pesando: In Memoriam
Jim was a first-class scholar, teacher and university administrator. His scholarship in economics is revealed by his extensive list of publications. These articles deal with a wide variety of economic issues from auction markets and investments in art, to the economics of pensions and pension policy, to real estate markets, and to monetary and fiscal policy. Jim's scholarship presence was recognized internationally. From 1979 to 1990, Jim was a Research Associate at the prestigious National Bureau of Economic Research and from 1982 to 1992, he was a member of the Pension Research Council at the Wharton School, University of Pennsylvania.
As a teacher, Jim established a reputation as a star lecturer in the introductory economics course in the Department of Economics. This contribution to the university was recognized in 2006 by an Outstanding Teaching Award from the Faculty of Arts & Science.
As a university administrator, from 1985 to 1996, Jim was the Director of the Institute for Policy Analysis. The Institute underwrote joint research workshops with the Department of Economics and the Rotman School of Management, established the Policy and Economic Analysis Program and served as a focal point for research on a large set of economic policy issues.
Last, but far from least, Jim was a stellar colleague, friend and mentor to members of the Economics Department and the Institute for Policy Analysis, and his help, wit and guidance will be sorely missed.
From Pauline Shum Nolan, PhD, Professor of Finance, Schulich School of Business, York University, Toronto
Jim was the best professor I had. This sentiment was shared by many. There were numerous teaching awards to confirm his meticulous organization, thought-provoking analysis, and tireless enthusiasm. A quality that stood out in my mind was the love of learning that Jim instilled in his students long after they took his course. I have come across many U of T Economics and Commerce graduates over the years and inevitably, they would say that the best professor they had was Jim. Jim was instrumental in my own education as the chair of my PhD dissertation committee, and his mentorship continued for many more years after that. He was always there to offer his rational opinion and good advice with a sense of humour. My family and I will miss him very much.
From Lisa Stockley, PhD, Associate Principal at Charles River Associates, Toronto. Lisa also kindly shares this photo of Jim at her wedding, with his wife Patricia (left)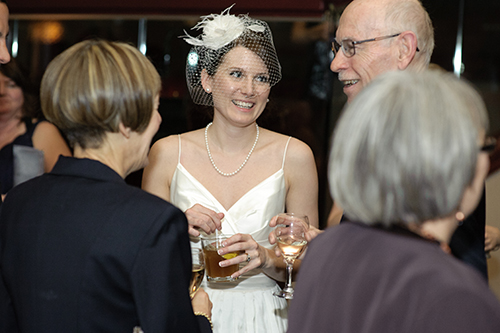 Jim was my mentor and friend.
I met Jim when I had just started my MA in economics about 15 years ago and I was assigned to be one of many teaching assistants for his section of ECO 100. I quickly learned why Jim had such a stellar reputation as an economics teacher: he was truly invested in his students. Each lecture was impeccably tailored. Each word he spoke was chosen with precision and intention. Each lesson was accessible and engaging. Jim won the praise of his students year after year, not because his course was easy (I assure you, it was not), but because he taught his students something that changed their lives.
Well beyond the time, effort, and care Jim put in to curating every lesson, he never hesitated to throw his support behind the many students who earned the privilege to call him an ally. I watched him make time and build personal relationships with many up-and-comers – keeping in contact and continuing to support them for years after they left his class and U of T. I have seen him guide former students through academic, professional, and even personal challenges. He truly was invested in making the lives of those who came through his classroom better.
Although I was never his student, Jim was an ally to me too. Throughout my time as an MA and PhD student in the economics department, Jim became one my most trusted advisors and friends. He made me a better teacher, a better economist, and in the years since leaving school, he has surely made me a better consultant (a career path that I love and may not have considered without his guidance and support). He and I shared many happy and not-so-happy tears over the years, but in the end, I wouldn't trade a single moment of our time together. To say I will miss him is a grievous understatement. But the impact he has had on my life, and the lives of so many students who have sat in his class over the years, will stay with us forever.