Professor Emeritus Donald E. Moggridge passed away on April 10, 2021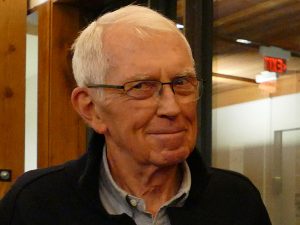 A distinguished economic historian with interests in monetary systems and financial crises, over the course of his career Donald E. Moggridge brought together the study of economic history and the history of economic thought.
After graduating with a BA from the University of Toronto, Moggridge went to the University of Cambridge in the UK to complete his master's and doctoral degrees. Published before he received his PhD, his first book was The Return to Gold, 1925: the Formulation of Economic Policy and its Critics.
In 1974, he returned to the University of Toronto as a full professor. He taught undergraduate and graduate courses at Scarborough College (now UTSC) and the St George campus, on economic history, the history of economic thought and the economist John Maynard Keynes.
Focusing primarily on interwar Britain, he published extensively, including refereed articles, essays and chapters in addition to books such as British Monetary Policy, 1924-1931: The Norman Conquest of $4.86 (1972), Keynes (1976), Maynard Keynes: An Economist's Biography (1992) and Harry Johnson: A Life in Economics (2008). He edited some thirty books, including (both with Susan Howson) The Wartime Diaries of Lionel Ribbons and James Meade (1990) and The Cabinet Office Diaries of James Meade, 1944-6 (1990).
Best known for his work on the collected writings of John Maynard Keynes, Moggridge was responsible for the production of over two-thirds of the thirty volumes, serving for decades as an editor, and thirteen years as the joint managing editor. These materials are an invaluable and unparalleled resource for Keynes scholars and historians of Britain in the twentieth century, and Moggridge's work on the collection was exceptional. He was a subject in the 2001 Historians of Economics and Economic Thought: The Construction of Disciplinary Memory (eds. Stephen G. Medema and Warren J. Samuels), with an extensive analysis of his accomplishments by John B. Davis, "Donald E. Moggridge as an Historian of Economic Thought".
His University of Toronto career also saw Moggridge in many administrative roles, including Assistant Chair for Economics at Scarborough, Acting Associate Dean, Social Sciences at the School of Graduate Studies (SGS) from 1994 to 1997, and SGS Vice Dean from 1997 to 2000. He participated in numerous University of Toronto review and planning committees, and was a member of Trinity College's Board of Trustees (1998-2004).
Moggridge was president of the History of Economics Society 1988-89, and was named a Distinguished Fellow of the Society in 2008. He was an alumnus of Trinity College, which in 2015 awarded him an Honorary Fellowship for his outstanding contributions to the history of economics as well as his teaching and administrative career at the University of Toronto.