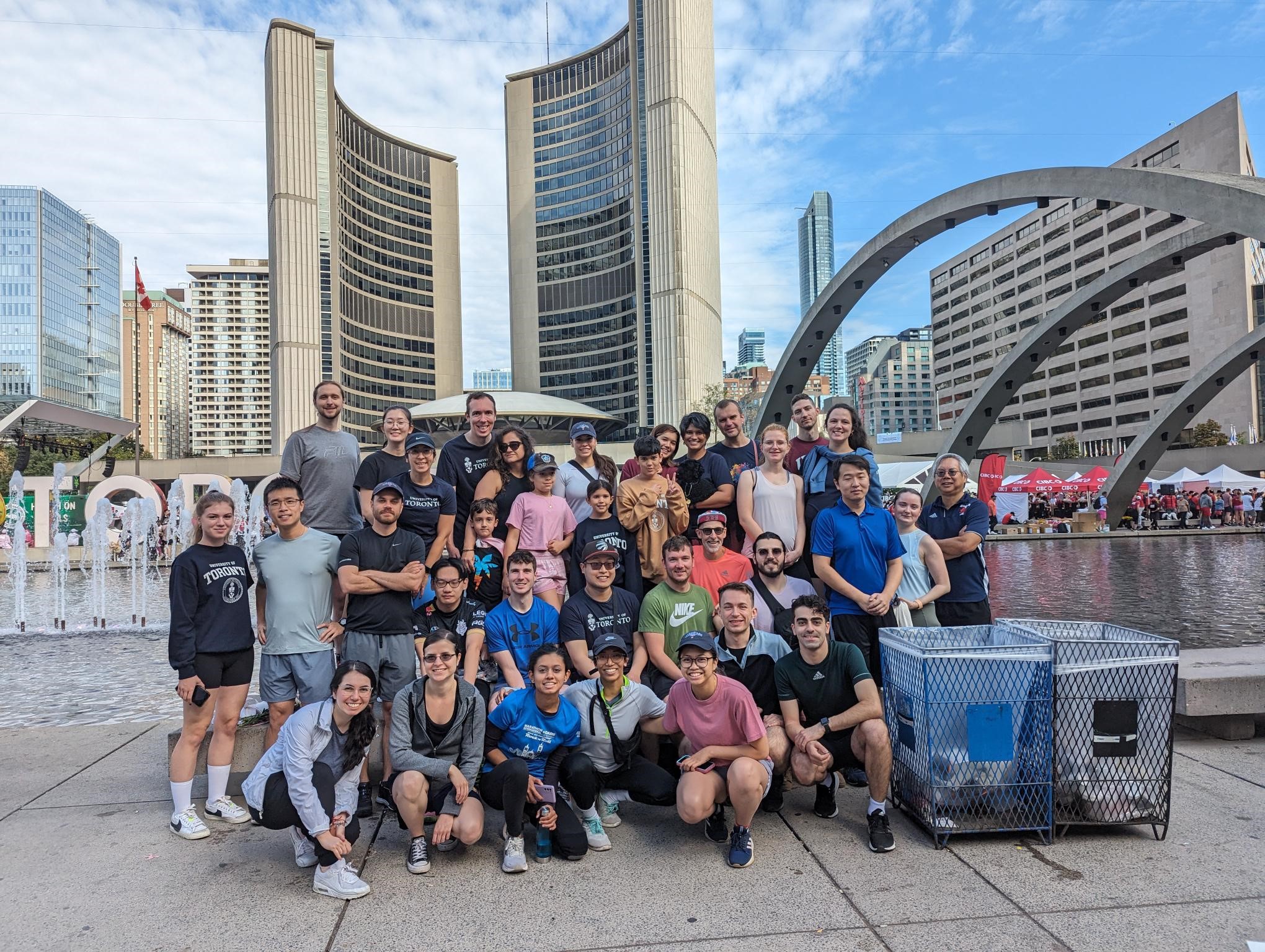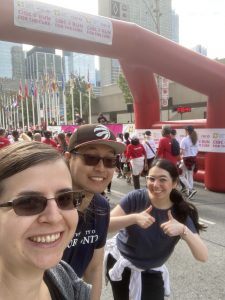 On October 1, 2023, The Department of Economics team celebrated a beautiful Sunday morning by turning out at Nathan Phillip Square for the Canadian Cancer Society CIBC Run for the Cure. The annual 5km fun run (or 1km family walk) takes place across the country and, every year, it raises millions for breast cancer research, education, and outreach programs.
Here in Toronto, 35 members of the department raised $2627 in just 11 days. Organized by Professor Nazanin Khazra with the support of the undergraduate division's Johnny Tong and Jacklyn Rabinovich, this is the second time the Department of Economics has entered a team. Run for the Cure is becoming an Autumn tradition for the department.
Breast cancer is a stressful reality for many families. According to the Canadian Cancer Society, 1 in 8 women in Canada will be diagnosed with breast cancer at some point in their lives. Every year, 220 men in Canada are diagnosed with breast cancer too. There's no question that breast cancer is a beast. Increasingly though, it is a beast we're taming rather than fearing. The Canadian Cancer Society-CIBC Run for the Cure is one positive action survivors, their allies, and supporters can take. Monies raised by runners are used to fund research, new treatments, and educational outreach.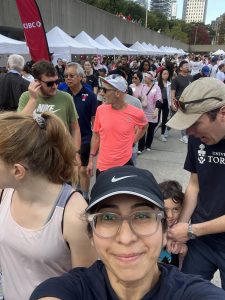 Khazra, Assistant Professor of Economics, personally benefited from breast cancer research and outreach efforts.
"I was about to start my first year of my Ph.D. program when I received a breast cancer awareness email with instructions about how to do a self-checkup," she remembered. "I followed the instructions and discovered a breast tumor. An email saved my life. This experience reinforced my belief in the power of awareness and early detection in saving lives."
The departmental team that assembles for the annual event is not about her own experience, Khazra maintained.
"It's not just about my personal journey; it's about the incredible culture of support we share in our department."
That's precisely what the other members of the organizing team brought from the experience too..
"Breast cancer has affected so many people and leading this initiative can help spread awareness, and help so many people feel supported," said co-organizer Jacklyn Rabinovich. 
Run for the Cure 2023 by the Numbers
Number of run events: 53 in communities nationwide
Number of participants and volunteers: More than 50,000
Total Amount Raised: $14.5 million.
Source: Canadian Cancer Society press release. 
Back to the Department of Economics website.