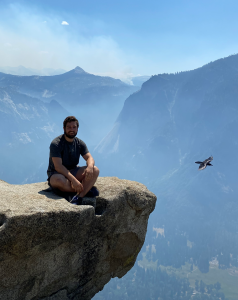 Toronto, June 6, 2023: The climate crisis demands action. Both political and individual actions are needed. That's the message outlined in a recent article by University of Toronto PhD candidate Hugo Cordeau.
Cordeau, an environmental economist studying with the Department of Economics, wrote the article to clarify common misconceptions about the cost pollution is extracting from society.
In particular, Cordeau cautions readers to understand the difference between the social cost of carbon and the policy-driven price of emissions. Citing a report issued by the Government of Canada, Cordeau reminds readers that the social cost of carbon released in greenhouse gas emissions reflects the cost of damage done to society. That cost is $250 per tonne. In contrast, the price of carbon that polluters pay is set at a discount. That price? Just $65 per tonne.
The difference between the cost of carbon and the price polluters pay is one of the central concepts in Cordeau's research.
"My work concentrates on devising climate solutions, specifically for transportation which contributes significantly to Canada's (22%), and particularly Quebec's (43%), GHG emissions," Cordeau said in a recent online interview. "Understanding the cost of carbon is crucial to crafting sound climate policies."
The article conveys a sense of urgency in educating the public about these concepts.
"The climate crisis is our foremost challenge," Cordeau explained. "The Social Cost of Carbon, despite debates around discount rates, provides a tangible measure of greenhouse gas emission costs. It is essential to realize that the 2050s or even 2100s are not a distant future for the younger generation."
Read Cordeau's article.
Review the Government of Canada report cited.
Learn more about Hugo Cordeau.
Go back to the Department of Economics page.