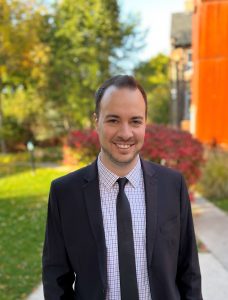 Economics PhD candidate William Arbour knew he wanted to teach at the university level by the time he was 16. He is starting a position as Assistant Professor of Economics with the University of Montreal on June 1, 2023. He won't be leaving the University of Toronto right away though. Arbour's research concentrates on ways to encourage inmates' social reintegration through rehabilitation programs and supervised transition, for example. His thesis defense on the subject is scheduled for June 6.
"I'll try to take a weekend somewhere in there to rest!" Arbour joked during a recent telephone interview.
The pace of Arbour's search and recruitment activity is not unusual among senior graduate students in economics. All the PhD candidates defending their dissertations in the Department of Economics this year already have jobs lined up.
"That is fairly typical; our students in high demand on the market," said Professor Colin Stewart who is the current Placement Officer for the PhD program.
In addition to Arbour's appointment at the University of Montreal, four other candidates have accepted tenure-track positions as assistant professors at Queen's University, Binghamton University, UBC-Okanagan, and KU Leuven. Two others are taking up postdoc positions at Northeastern University and the University of Pennsylvania. Candidates who chose to enter the civil and private sectors will be joining the Department of Finance, Bedrock AI, StataCorp, and Cornerstone Research.
The job search process in the field of economics is unique. Students entering the job market create a job market paper, a highly structured piece that summarizes the depth of their research methodologies and results. From there, mock interviews ensure that candidates are prepared to present and answer questions about their research.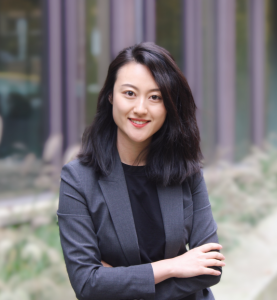 We sometimes schedule mock interviews with faculty and students from other departments," said Elaine Guo, another PhD candidate who was part of this year's job market. "These are usually people we know from our network who are willing to help. The majority of the mock interviews, though, are with people in our department, some scheduled by the department and some by ourselves."
Candidates may apply for 200 positions around the world. From there, candidates can expect a series of first-round interviews of about half an hour. If successful, those candidates will then fly-out and spend the day at the university where they will present and answer questions about their research.
"During the fly-out stage of the process, the faculty on the hiring committee are focused on evaluating the quality of the research," Stewart explained. "But during that day they can also determine if the candidate will be a good colleague and if they will be a good teacher."
The process is described as nerve-wracking, but ultimately enjoyable.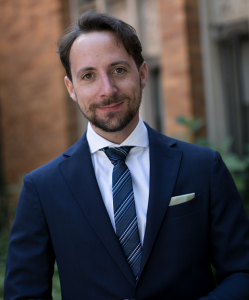 "I found the fly-out stage to be the most enjoyable, despite the fact that I had been dreading it for years!" said Tommaso Alba, a candidate whose research investigates the role of patent trade and enforcement on firms' innovative performance. "Most of the preparation is done beforehand, and after that stage, the fly out is all about executing and then ultimately chatting with very intelligent and interesting people who have taken the time to look into our research. Once again, my committee was very supportive throughout the process and provided invaluable advice and feedback, both in this final interview stage and during the follow-up; bargaining."
After PhD candidates have prepared their job market papers and practiced their presentations through mock interviews, stress management becomes the most important activity during the search season.
"It was definitely a period of heavy workload and a lot of stress," said Guo. "However, due to each stage being so well defined, there is also very clear and tailored support from the department. There was a lot of support from my supervisor and from the department for preparing the key items in my application package. The practice job talk, mock interviews, and numerous iterations on my job market paper all played a key role in getting my package in good shape."
Guo, who specializes in both health economics and public economics, is taking up a consulting position with Cornerstone Research.
"The new position does feel like a major life transition," she said in an email interview. "I am moving to a new city and with the position being in consulting, it's a new way of utilizing my skills as an economist. I feel well-prepared and confident about my training as an economist, and I am excited to start applying my skills to real-world scenarios."
Once PhD candidates in Economics reach the job market, they have already built a significant amount of research and teaching experience. That adds up to a lot of significant life experience too. Moving to a new country, for example, is normal for economics scholars at the PhD level. Alba, for example is heading to a job at KU Leuven in Belgium. He has previously studied in Italy and Austria, as well as Canada.
"I have moved at every stage of my academic experience and never regretted it," he said. "I am very optimistic about this change as well. As for becoming a professor, to a certain extent it still has to sink in. It is true that we have all been preparing for this moment for the last five years, but I still feel I'll have to earn this opportunity while I'm performing the role. I guess that is precisely the logic behind a tenure track! I hope to repay the faith that has been placed in me with this appointment."
All three of the candidates have advice for program applicants and candidates entering the job market stage of their academic careers.
"Present your work as much as you can." Arbour advised. "Going to conferences will help you get used to talking about your work, but you will also meet people in the field who share your interests, you'll meet friends, and you'll make contacts who will help you do your work."
For Guo, appreciating the journey is key to a positive job search experience.
"Be prepared for the intensity," Guo said, "but also fully enjoy all the exciting experience and possibilities that the job market brings."
Alba believes the comradery that members of the PhD program have created in the department is especially important when candidates hit the job market.
"The single most important piece of advice is to keep in touch with the rest of your cohort and to be there for each other!" he said. "My experience would have been very different if I did not have the support and friendship of my colleagues. Having a second pair of eyes, someone to review an idea with, or just to laugh about the process when things don't go your way is invaluable."
For Stewart, the placement of PhD candidates shows the strength of the Department of Economics' reputation.
"We can get people at the best economics departments in the world to take a close look at their papers and fully consider them for a position," the professor said.
Return to the Department of Economics website.