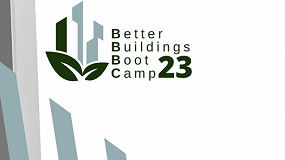 Looking to connect studies in economics with environmental action? Learning to develop more sustainable buildings could be the connection you've been looking for. Applications are open for The Better Buildings Boot Camp (BBBC). You have until May 31 to apply to join this free program delivered via Zoom. The program was created with input from sustainable building subject matter experts and faculty from Carleton University, George Brown College, Seneca College, Toronto Metropolitan University, University of Toronto, and York University.
During the Boot Camp, students will collaborate with faculty, staff, and professionals to work through the integrated design and delivery process to develop more sustainable buildings.
Organized by Sustainable Buildings Canada, this year's project will focus on a deep energy retrofit of the Assiniboine Graduate Residence at York University. The goal is to achieve net positive environmental and human outcomes. Students will work in multi-disciplinary groups to collaboratively present their recommendations to York's facilities, operations and sustainability team.
The program runs from Monday, June 19th to Friday, June 23rd from 8:30 – 3:30.
Visit the website at https://sbcanada.org/better-buildings-boot-camp/ and click on the register tab to apply. Send your questions to BootCamp@sbcanada.org or call 416-272-8295.